Blackout window shades for ultimate darkness
At WindowFashion, we know what it takes to guarantee a perfect night's sleep or an exciting home entertainment night in. You need custom-made blackout roller shades that offer you complete and utter darkness - any time of the day. We custom-make and ship the most stylish and functional room darkening blinds in 7 days or less.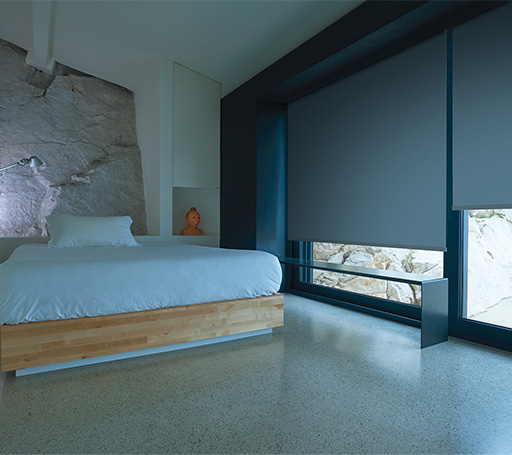 Blackout shades extend the night from dawn 'til dusk
Are you a light sleeper or do you work shifts? Then don't worry, we can help. We have beautifully designed blackout roller blinds that will block out any daylight to ensure you get a sound sleep - anytime of the day. Or would you like to get the real cinema vibe at home? Then you have come to the right place. We custom-manufacture blackout window shades to your exact needs in 7 days or less. Our complete range includes roller shades, zebra blinds, smart motorized blinds and dual roller shades. All our room darkening window shades are individually designed to have an immaculate fit and to match any interior.
Ordering blackout roller shades is simple and easy
We have created a roller shade configurator to make ordering simple and quick. Just follow our step-by-step guide filling in the correct measurements and choosing the fabric, model, installation options and operating method. To help you get it right first time, we suggest reading our measurement guide and watching our video. However, for your peace of mind, we have a 'fits-your-window' guarantee. This means that if the given measurements are incorrect we will send you a replacement for free.
Which fabric blackout roller shades work best?
We have an extensive range of blackout roller blinds to choose from at WindowFashion: from basic to luxurious, ready-made to made to measure, residential to commercial. Do you need advice about which window shades to choose? Our experts will help you find the best room darkening roller shades for your home situation. Whether you need total darkness or complete privacy, we have blackout roller blinds to suit you exact needs. Consider our smart motorized blinds for convenience and comfort, our vinyl blackout roller shades for a smart and sophisticated look, our zebra blinds for flexibility or our dual roller shades which are perfect for both day and night.
Special blackout features
All our room darkening shades have a special inner lining made from xx to block out any sunlight. But it's not just the quality of the fabric that does the trick. It's all in the cut. Because we customize the blackout roller blinds to your exact size, we ensure that the window is optimally covered and no slithers of light can squeeze through.
Cordless blackout roller shades for extra safety
We pride ourselves on having ultra-safe cordless blackout roller shades that are designed for families with small children and pets. All our products comply with the American National Standard for Safety of Corded Window Covering Products and have been tested by independent certification organizations. Feel safe in the knowledge that all our cordless room darkening blinds are flame retardant and have Greenguard and Oeko-Tex protection.
Smart motorized blinds for convenience
If you would like complete privacy, then our total blackout motorized blinds are the best option. These room darkening window shade blinds have new smart technology integrated into the system. This motor can be easily operated by a remote control or via our app to raise and lower your blinds. The app even lets you control your blinds and set times from anywhere.
Blackout roller blinds to fit your exact needs
We have happy customers across America. From well-known interior designers to property developers and from homeowners to the hospitality industry. We pride ourselves on offering a service that fit anyone's needs and budget. Just let us know what you want, and we will find the right room darkening shades for your situation.