Day and night shades are versatile and flexible
Day and night shades offer it all. With two shades in one system, you can always choose how much natural light you want in your home. In the daytime, you can have the sheer or light-filtering blinds down to let the natural sunlight in and have a view of outside. In the nighttime or if you want complete privacy and darkness you can close the black-out blind. The choice is yours.
Day and night shades, double roller shades or zebra shades?
What is the difference between day and night shades and zebra shades aka double roller shades? Day and night shades have two sheets of fabrics. One which is light-filtering and one which is black-out. zebra shade, or double roller shade, is just one sheet of fabric that has bands of light-filtering and black out fabrics that look like a zebra print. These double roller shades can be rolled to let in daylight or completely darken a room.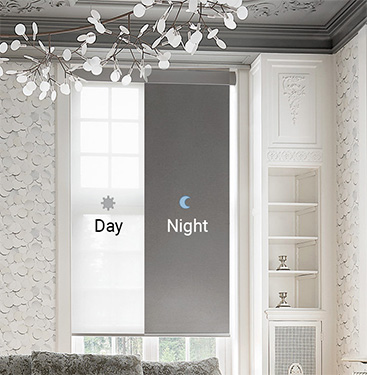 Day and night shades are both functional and beautiful
Day and night shades give you complete control of the light flow. The black-out shade is extremely practical offering glare reduction, privacy and complete darkness at any time. Also saving on energy with heat control. The daytime sheer or light-filtering material creates a beautiful and airy atmosphere and allows contact with the outside world.
Which rooms suit double roller shades or day and night shades?
Double roller blinds or day and night shades are ideal for bedrooms, nurseries and media rooms. This is because both these types of shades can let in natural light or block out sunlight in a second. This is idea if your baby needs to take a daytime nap or you want to reduce the glare on your computer screen, you can roll the blinds to room darkening mode. And when your child is awake or the sun has moved position, you can go back to daytime mode.
The benefits of day and night shades
Our day and night shades are next generation in roller blind technology. The light-filtering or black-out fabrics in this unique 2-in-1 window shade can be used independently or together and are easy to assemble, install and use. You can choose to combine similarly or contrasting colored roller shades, so there is a decorative component, too. Being completely cordless, all our shades are extra safe for both children and pets. Day and night shades at Window Fashion can be upgraded from basic to full-option and are available in a wide variety of finishes and soft neutral colors.