Choose the right sun shade roller blinds for you
When decorating your home, choose light filtering window shades or sheer roller blinds to reduce incoming daylight without blocking it and create a more convenient, comfortable and inspiring space to live and work. Whether you are looking for roller shades, zebra blinds or double roller shades, we have it covered for you at Window Fashion.
Reduce glare and heat with light filtering roller shades
At Window Fashion, we have a wide selection of anti-dazzle light filtering and sheer window shade fabrics that are both beautiful and functional in design. Not only do they complement any modern-looking interior, they have transmission, reflection and absorption properties, which offer glare and heat protection. With those solar shades you can enjoy a light and sunny room and a beautiful view of outside with a comfortable indoor climate.
Light filtering blinds or sheer roller shades - which one?
Do you find it difficult to choose between light filtering roller blinds and sheer roller shades? We answer the question: What is the difference? Itís really all in the fabric. Sheer roller shades are more see-through and let in the most daylight. Light filtering shades are less transparent and give you more control over inside light levels.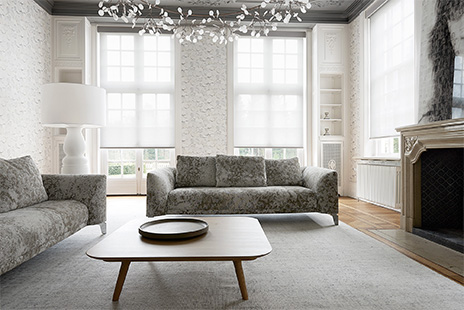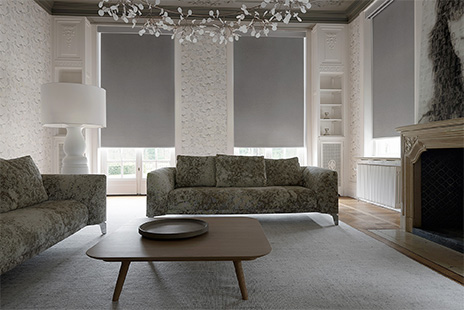 The benefits of light filtering window shades
Solar Shades use light filtering fabrics that filter the incoming daylight in a beautiful way while keeping a connection with the outside world. At Window Fashion, we have light filtering window shades available in delicate woven textures offering both diffused light and privacy. These sun shade roller blinds offer endless decorative possibilities and help to reduce the glare on computer and TV screens.
Special qualities of sheer roller shades
Sheer roller shades are designed to remove glare but are still transparent enough to be see-through. These are ideal for family rooms or rooms where kids play. Depending on where the property is located and how the sun hits the building, these sheer roller blinds are for those who want a light and airy living or working space.
Sun shade roller blinds made from fine quality fabrics
Made from special fabrics with varied weaves, our light filtering blinds and sheer roller shades are designed in Switzerland with real purpose - to make your life easier, safer, smarter and more eco-friendly. Only using the finest yarns and top class production facilities, we ensure the very best sun shade roller blinds in the USA.
Different colors, different textures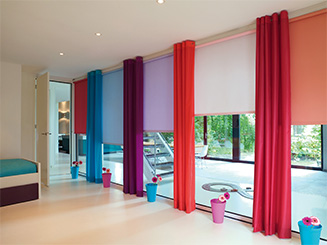 Our sheer roller shades and light filtering blinds come in a wide selection of colors and patterns. The tighter the weave, the lower the openness and the more the shades block the light. The more the light is blocked, the more the view is blocked. The earthy natural color palette and tactile textures ensure there is always a fabric to suit your style and taste.