Motorized blinds and smart blinds - what's the difference?
Roller shades are a modern window treatment with a sleek look. Their modernity, however, can be extended to the way they are operated as well. There are two types of motorized window shades at Window Fashion. We have remote control blinds, which have a remote- or pull-cord-controlled electric motor to open and close them. We also have a more sophisticated smart version, which is a new concept from Eve MotionBlinds. This smart technology allows you to operate your automatic roller blinds anytime, anyplace, and anywhere from an iOS app. Any roller shade, zebra shade or blackout roller shade in our range of products can be equipped with any such motor.
Electric window shades to make life easier
Electric roller blinds can be operated with a push button or remote control. This means you must stand up and go next to the electric window shades to operate them. They are electric, which means they are easy to open and close, but this does not mean they are automatic. However, you do not have to worry about muscle power as they are effortless to use.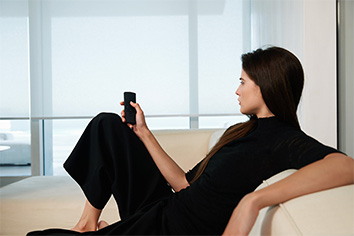 How do motorized roller shades work?
Electric or motorized simply means that the blinds are operated by an electric motor. This can be done in different ways: the motor can be powered by disposable or rechargeable batteries or have fixed wiring. You can operate the motorized roller blinds using a remote control, a wall switch, or a push button.
Why choose electric blinds?
If you simply want to be able to control large blinds behind your sofa or on a very high, difficult-to-reach window at the push of a button, you can opt for electric window coverings and use the remote control or wall switch.
New smart blinds powered by Eve MotionBlinds
We now have new smart blinds available at Window Fashion. The smart motors work with Apple HomeKit technology directly from your iPhone, without the need for a bridge, registration, or any cloud dependency. Supported by Bluetooth and Thread, this is the most advanced and easy-to-use technology in the market.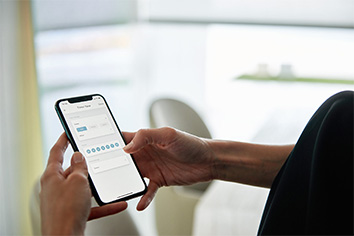 Incorporate smart blinds into your smart home
If you love technology, automatic window shades are definitely for you. You get the best possible control over your automatic roller blinds with the least amount of effort. Once connected, smart blinds interact with other HomeKit-enabled accessories that are part of your ecosystem, like light bulbs and thermostats, creating the desired ambiance, safety and comfort at any time of day.
Automatic blinds offer safety, energy efficiency and convenience
If you have smart window coverings, you can always make your home appear inhabited when you are on holiday. The smart window coverings also automatically adapt to changing temperatures inside and out to help save energy. These smart blinds move to the rhythm of your daily life, creating the perfect atmosphere at any time of the day.