Which window shades work best in a kitchen, bathroom or office?
At Window Fashion, we have a wide selection of window shades that have been ingeniously designed to work effectively in different rooms in your home. For example, we have special kitchen window shades, bathroom window shades and office window blinds that stand up against glare, heat, and moisture. Patio-doors and the like can profit from that range of fabrics as well, as each and everyone of them can be configured into a roller blind suitable for doors.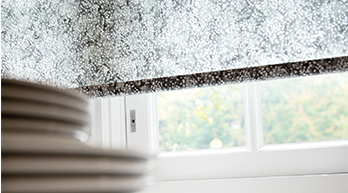 Multi-purpose kitchen window shades
The kitchen is often the heart of the home. Therefore, it is important to have kitchen window shades that not only look beautiful and fit the style of the home but have real practical value. Kitchen window shades need to be easy to clean, reduce glare and be able to cope with steam, whilst having light-filtering properties to offer an incredible view of the garden or outside. Of course practicality does not cancel beauty. We offer a vast range of roller shade fabrics with different colors, textures or patterns to also cater to your style decisions
Functional bathroom window shades
When choosing a window shade for your bathroom or wet room, itís vital to choose bathroom window shades that have the following special features: durability, privacy, and light control. The bathroom window shades need a combination of natural light to be able to look in the mirror at the same time as having complete privacy to take a shower. The fabric also needs to have special properties that works well in a humid and moist environment.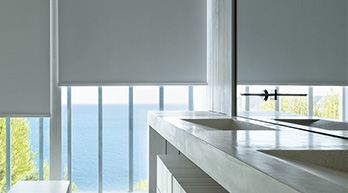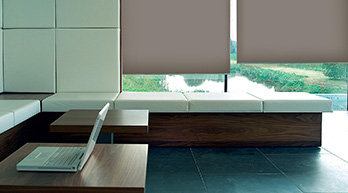 Window blinds for an office or media room
When it comes to your office or media room, it is crucial to have roller shades with anti-glare qualities. Whether you want to watch a movie on your big screen, play on your new PS5 or work at home on your computer, you want to ensure no light hits your screen and that you have a comfortable indoor climate. With a choice of light-filtering, and screens at Window Fashion, we will help you find the right window treatment for your situation.